FOR EMERGENCY SERVICE: (585) 203-0370
Car Key Programming Rochester NY
Hire a Professional Automobile Locksmith for Car Key Programming in Rochester
Reliable  Car Key Programming services in Rochester NY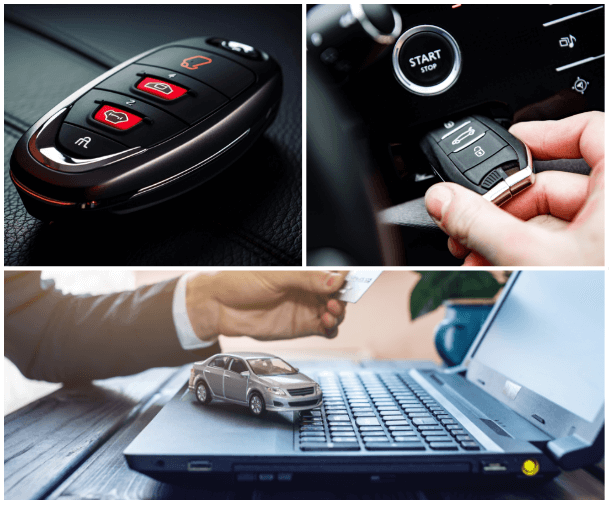 WHAT IS A CAR KEY TRANSPONDER & WHY IT IS IMPORTANT?
Most cars now have a transponder key which has a computerized chip. The transponder chip controls different features of the car including locking/unlocking of the vehicle. As the vehicles have modernized so have the keys which are used to control the respective vehicle. Different make and models have different transponder keys which work differently. A particular transponder key model will only work with a specific car and not with multiple other cars even if they are of the same model. In fact, the security features of the transponder key goes beyond just locking and unlocking the vehicle. Even if there's a traditional key that fits the lock and opens up the vehicle door, without a response from a transponder key the car just won't start. For a car to start, you require a car key programming service done by the company.
If you're situated in Rochester and your car transponder key has suddenly stopped responding, your best bet is to get in touch with a professional car key programming locksmith in Rochester NY.
HAS YOUR CAR KEY TRANSPONDER STOPPED WORKING SUDDENLY?
Are you suddenly experiencing a car key transponder malfunction? Are you pressing the different buttons yet your car key transponder is not responding? If that's the case then it's time you call a professional automobile locksmith to reprogram your vehicle transponder key. No matter what make or model of your vehicle is, if you have locked yourself outside anywhere in Rochester and you want an expert auto-locksmith, Speed Locksmith Rochester is the place to call. Our automobile locksmith will hardly waste any precious time to reach your location and relieve you of your auto-lock worries. Our experienced locksmiths in Rochester have ample experience in programming a variety of transponder keys effectively.
IF YOU HAVE LOST YOUR KEY, WE CAN PROGRAM A NEW ONE
Have you accidentally lost your car transponder key? In case you have then our automobile locksmith can help reprogram a new transponder key for you. Our professional automobile locksmith has the right tools and experience in reprogramming car transponder keys. Losing a key can be a frustrating experience and we understand it better than anyone else. If you have experienced key loss, our professional automobile locksmith service in Rochester NY is quick and responsive to adhere to your locksmithing emergency. Once we have performed the key cutting, you provide us with your location in Rochester & one of our professional locksmiths will arrive at the location. We will then perform the transponder programming to make it work.
ARE YOU IN NEED OF A TRANSPONDER KEY DUPLICATION SERVICE?
If you take precautionary measures, there's a significant chance that you will take them with your vehicle transponders. Are you located in Rochester and want an expert locksmith to program a transponder key for your vehicle? How about you call our Rochester Locksmith service to perform a transponder key duplication for you. Our reliable locksmiths in Rochester NY will hardly waste any precious time and arrive at your location. We provide professional transponder key programming service of a variety of different make & models. Do you want a professional automobile locksmith for a transponder key cloning job? Our 24/7 locksmiths are always ready to assist you with car key programming. Are you in need of a transponder key service?