FOR EMERGENCY SERVICE: (585) 203-0370
Safe Locksmith Services in Rochester, NY
At Speed Locksmith we offer safe locksmith services because we understand the prevalence of the need to store and protect valuable items, documents, or money, and how this need has existed for many centuries. Human beings have always tried to find ways to hide and protect their valuables from theft or damages incurred by fire or other disasters.
In 1835, two inventors from England created the first patent for a burglar resistant secure box.
Safes are most commonly used for residential and commercial property, and designs engineered to withstand in extreme conditions such as: fires, flood, or extreme forces and conditions created by a person that tries to break into it.
There are many type of safes, including: mechanical or electronic ones. They create a very easy use for anyone to use them for multi purposes. Our safe locksmith services at Speed Locksmith offer the best full safe service for Rochester, New York, and the surrounding metro area. Also, If you need a new safe installed at your home or business, we will be able to guide and help you find the right one for any of your needs.  
For over two centuries we have seen the multi purposes that safes can have, such as: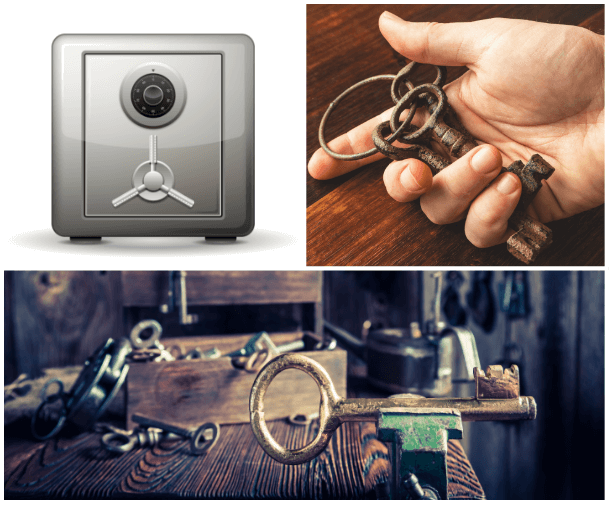 HOW TO CHOOSE THE RIGHT SAFE FOR YOUR NEEDS:
First, you need to know what size you need. To do so, you need to find out what is going to be stored in it and where you would like to put it. Also, it is important to determine how often you will be using the safe. If it's on a daily basis, then consider one that would be convenient and appropriate to use on a daily basis.
Second, security. It is necessary to know what you would like to keep your assets safe from. For instance, safes that are designed to hold for a long time in fires and other extreme conditions, are not always the best choice to protect from burglars, and vice versa.
By knowing the exact purpose of having the safe, you can save a lot of money when investing in one.
Our Safe Services Includes
Locking systems is Rochester, NY
It's essential for you to know how you prefer to lock and unlock the safe.
There are three main different types of locking mechanism:
Key access
Mechanical safe- using dial combination
Electrical safe- using the keypad in order to type the code in
We hope you find this information helpful. Please feel free to contact us with any questions or if you have any safe locksmith needs.